February has been an exciting month for Pitt AMA because of the successful completion of its 3rd Annual Regional Conference. Alyssa Schaefer and Kaylee Philbrick, co-VPs of Conference, led a team of hardworking students for months leading up to the event. This year's theme was "Find Your Niche: Building Your Future Piece by Piece" which featured 30 representatives from 20 different marketing companies.

"I think our conference provided everyone with a great opportunity to network and learn about the underrepresented segments of marketing," Alyssa, co-VP of conference, commented on the benefits of attending. She continued, "The best part about our conference is that it offered something for everyone due to the wide variety of fields that were represented throughout the day."

Kaylee, co-VP of conference, enjoyed seeing everything come together saying, "Having the chance to interact directly with the companies and students made a lasting impact on me. I got to see how much the conference [meant] to them and what opportunities AMA has to expand on the conference."

The conference was certainly an excellent opportunity for marketing students and professionals alike to come together and exchange meaningful dialogue within a welcoming environment. Alyssa said, "It was a great feeling to know that the students and speakers were enjoying themselves!"

In case you missed the conference, or would like a recap of the main points, here is a list of 8 takeaways for all marketing students!

Read Every Single Day
"Creativity is a hungry child that needs to be fed." - Dave Kwasnick

Reading about current events, business news, and your industry is key to your success. Pitt Executive in Residence, Claye Greene, CEO of wakes up every morning at 4am to read for two hours before starting his day at 6am. Staying updated keeps you relevant as a business person. You have no excuse not to read!

Data matters!
Just because you think something is true, does not make it true. Do not cut corners, always do your research. Having reliable information and statistics to support your opinions, decisions, and actions are essential in the realm of 21st century business.

Always Be Honest
Honesty in business will establish a reputation of trustworthiness between you and your clients. The positive experience resulting from being truthful will keep clients returning to your company.

Set the Standard
Train your employees to be like you – hardworking, dedicated, creative, etc. Always be self-accountable, admit your mistakes, and recover quickly. Your company will become a powerhouse of productivity if all of your employees share in these characteristics with you.

Always plan your car crash.
Your schedule can look like a car crash at times. This is okay, provided you plan the car crash! Conflicts will arise and plans might shift, but always create a real-time recovery plan. Revise the plan for your day, your week, or your month according to need. Adjusting as necessary is perfectly okay.

Corporate Fish Tank
Remember, managing a company is similar to owning a fish tank: sometimes you are cleaning up the poop, other times you are feeding everyone! Although rewarding, managing a company takes a lot of hard work and dedication.

Ask the right questions.
Next, seek out the answers! Master your craft, invest the time and energy into it to become a black belt in your field. Find solutions to the end goal facing your industry. Put the effort into becoming the best, and sell yourself as the professional you have created.

Always Take Risks
Whatever you get yourself into, remember you can always get yourself out it. Don't worry, try it. Learn from your experiences!

"I can say multiple things made the conference a success--the various schools, companies and the flexibility and help of Pitt Business," says Kaylee. "Although all of these are true, the effort put forth by our team was the ultimate key to success."

Thank you to our co-VPs of conference, the regional conference subcommittee, student participants, and companies for another successful regional conference!

What are some of your takeaways from the regional conference? We would love to hear them so make sure you comment on them below.




During Marketing Week, Meade Johnson, our executive in residence, came in to speak to us about her top ten tips for networking in the modern age. She challenged us to "network" at least once a week and make any situation a possible networking opportunity. I didn't think it was possible for any of this to work, but I put her tips to action right away!

​

When a professional from a company I admired came to speak to us during Marketing Week, I immediately knew I had to impress him. Meade told us to always "be yourself" during every interaction with other professionals. When I began to strike up a conversation, I tried to let my passion for the industry and company come through without being rigid or too professional. After his presentation, I made sure to ask questions and follow up with a thank-you email.

How do I know my interaction worked? Within that week, the professional had sent my resources to help me study more about the industry. Within the month, he had sent me a link to a new internship posting for their company that he thought I may be interested in. I now have a call with the company account manager (wish me luck).

My takeaway from this success is that your authentic self is the only self you need to bring to networking events. Just show genuine interest and have meaningful conversation, and someone may be willing to help you get job, reference, or more industry knowledge.

"Beep, beep, beep, beep," my alarm rings out at the ripe time of 7:00 AM. Painfully, my eyes open. I slide out of my warm bed, open my blinds to the crisp morning light, and pull out my business suit that I ordered from Amazon two days before. It's Career Fair day.

This past Friday, hundreds and hundreds of Pitt Business students boarded city buses—coffee in hand-- and headed towards the David Lawrence Convention Center for the annual Career Development Conference. Clad in black, gray, or navy suits, we walked in the hot sun toward a day filled with recruiters, resumes, long lines, and sweaty palms.

By the end of the day packed with panel discussions, shot-glass water cups, networking lunch, and traditional career fair, I couldn't help but hear some of the same major themes throughout each facet of the day. We are often told that our resume and list of internships are the most important aspect of a job search, but today we got a little different perspective.

Below is the list of advice and suggestions that popped up numerous times leading me to the conclusion that they are exceedingly important and that I should share them with you.

Say goodbye to fear

The more confident about who you are as an individual and everything you can bring to the table is electric. Being secure in your unique qualities will get you noticed. People can't ignore passionate and confident candidates.

Success is 60% image and 40% everything else

Whether you're selling a toothbrush or selling yourself, there is one common fact that cannot be ignored: brand matters. Your personal brand is of upmost importance when interviewing. Who are you beyond your work experience and 3.7 GPA? What are your passions? What drives you? When you define your personal brand, people will want to buy into it.

Be a human

One of the most important aspects of an interview is jiving with the hiring manager and employees. Hiring managers want to know that you will fit within the company, but more than that, they want to know that they could spend day in and day out with you. So be yourself. Tell them the truth. If the fit isn't right, then move on. It's for the best in the end.

Speak up
​

Age doesn't define ideas or ability. Whether you're 23 or 53, your ideas are just as valid and creative. Not to mention that your boss and coworkers want to hear them. Who knows, your idea could be the big break.

Find the right culture

One particular quote that really stuck with me was "The interview is for you as well. Interview us right back." And she was totally right! Sure, we all want jobs when we graduate, but if the culture is not right for you, then your heart will never be in it. So ask the hard questions in your interview. Make sure it fits for you as well.
Powered by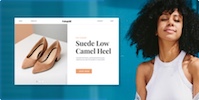 Create your own unique website with customizable templates.